Visiting the Blue Mountains
The Blue Mountains National park is within the Greater Blue Mountains World Heritage Area spanning 1.03 million hectares of wilderness which makes it one of the most bush fire prone areas in the world.
Travelling through the Blue Mountains
If you are planning a trip to the Blue Mountains, be sure to check that there are no bush fires within the area before you leave home.

If there is a bush fire, stay up-to-date with changes to the fire's conditions and check the bush fire danger rating. Also look at Live Traffic and the BoM websites for traffic and weather conditions ahead of time. Traffic delays are likely during a bush fire.

What to do if you are in the Blue Mountains during a bush fire
If you are holidaying or visiting the Blue Mountains at the time of a bush fire, its imperative that you stay up-to-date with the latest bush fire and emergency information.
If a bush fire is near where you are staying, make sure you keep your mobile phone charged and switched on and look out for any emergency alert messages from the RFS advising evacuation warnings and orders.
Watch the fire's condition by checking the Fires Near Me webpage for the latest fire information and alert level.
If you are unsure of the closest neighbourhood safer places you can find an interactive listing on the NSW RFS website indicating where your closest neighbourhood safer place is located. Otherwise check with your local RFS. Remember, Neighbourhood Safer Places are a last resort during an emergency, used only when there are no alternative options.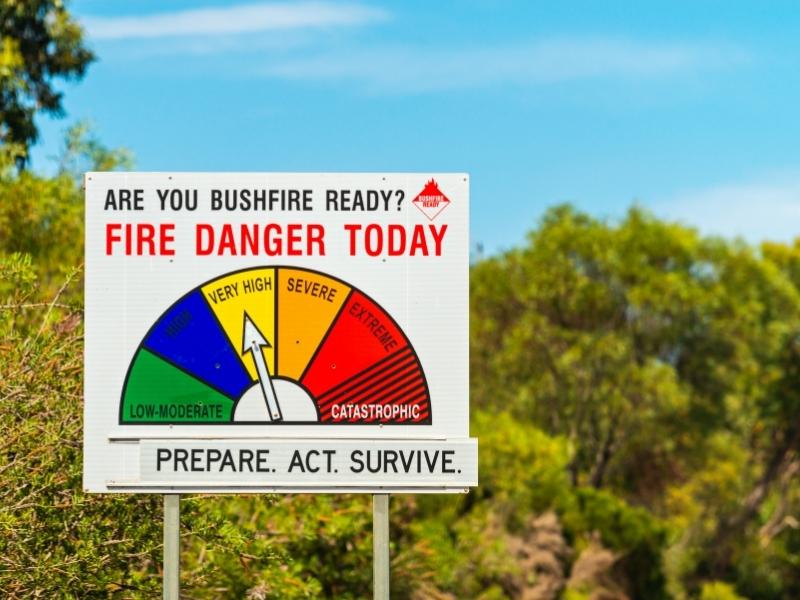 Bush Fire Danger Period and Total Fire Bans
During the warmer months of the year, from 1 October to late March (or earlier depending on weather conditions), a bush fire danger period is declared by the NSW RFS. During this time, fires are not allowed without a permit. A free fire permit can be obtained from the Blue Mountains Fire Control Centre (see map).
Penalties apply if you do not obey the restrictions or rules applied during this period.
If you are free camping and wish to have a campfire, check if there is a total fire ban by looking up the RFS website. Fires can not be lit in the open during a total fire ban.
If you are staying in a Blue Mountains National Park campground, check with the Ranger or look out for the Fire Danger Rating/Total Fire Ban sign within the park.
Below is an interactive map with markers showing the locations of the Blue Mountains RFS Brigades, Blue Mountains Fire Control Centre, Neighbourhood Centres, Katoomba and Nepean Hospital.